Show Bill

---
Thursday night, 11/6/14 @ 8pm, Woodshed Archive is honored and excited to present the 2013 South Carolina Fiddle Champion, Kristen Harris, as our featured artist. Accompanying Kristen will be multi-instrumentalist Tyson Graham on banjo and bass, Ashley Carder (2012 SC Jean Laney Harris Folk Heritage Award) on guitar, and as an additional treat – members of the Prairie Willows lending their sweet and spunky harmonies to kick things up a notch. With her wicked and delightful sense of humor and propensity towards all things FUN, Kristen is sure to keep you smiling and singing along with her merry band of masterful musicians all night long!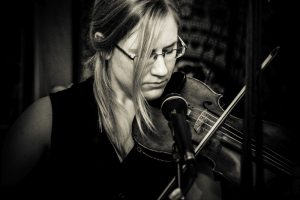 Kristen grew up in Cape Cod, Massachusetts and the San Francisco Bay area of California. She began playing the violin at the age of five through the Suzuki Method, developing a passion for music in her formative years. Throughout her years in school and college, she played violin in the orchestra as well as double bass in jazz band and jazz combos, while also pursuing other styles of music, including bluegrass, old time Appalachian, jazz, swing, and rock on various stringed instruments. She moved to Columbia four years ago to complete a Master of Arts in Teaching degree at USC, and since she has been here, she has stayed busy performing regularly with regional orchestras, the USC Symphony, and freelance gigs, as well as frequent shows and performances with rock, swing, and folk bands in the midlands. Here in Columbia, she has taught at the USC String Project and also at the Suzuki Strings at USC program for the past 4 years. Currently, Kristen is Orchestra Director at Kelly Mill Middle School in Blythewood, SC.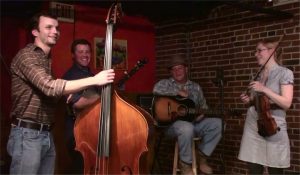 Please join us online for this very special evening of traditional Appalachian string band music, old-time fiddle tunes, mountain ballads, and some good ol' country honky-tonk songs.
https://www.facebook.com/pages/The-Prairie-Willows/130310337151531
Old Growth CD (Carder, Graham, Harris, Chiles)