---
---
Archive Content
Band/Artist: Don Merckle & The Blacksmiths
Date: September 19, 2013
Venue: The Woodshed
Location: Columbia, SC
Source: Soundboard (need mic list) and Front of house microphones (need type)
Lineage: Studio One (24/48) > flac (14/44.1 Level 6)
Recorded and Mixed by: Patrick Chapman
Transferred by: Jack Quillen
---
The Band
Don Merckle (guitar, vocals)
Jason Brachman (guitar)
Kevin Pettit (bass, vocals)
Stan Gardner (keyboard)
Chris Lawther (banjo)
---
Setlist
1 – Girl in Texas
2 – Ballad of an Angry Man
3 – On My Own
4 – Fight Song
5 – Make You Happy
6 – Murder on My Mind
7 – Drunk Girls
8 – The Underground
9 – Lucille
10 – Killing Me
11 – Waiting for the Man
---
Show Bill
You can't have a discussion with locals about the Columbia music scene of the past without immediate and favorable mention of the bands Loch Ness Johnny, American Gun, and Bare Knuckle Champions….and to hear enthusiastic praise in response as stories are relayed of memorable shows, favorite songs and records, and the inevitable "I miss them". As is the nature of the "musical beast", bands as a whole as well as the individual band members (no matter how popular or successful) form, expand, morph, and re-invent themselves over time as the intricacies of life impact all those involved. Singer/songwriter and recording artist Donald Merckle's combination of strong vocals and honest songwriting has been the common thread throughout the course of each of these bands and continues to flourish as he performs both as a solo artist and in his newest project, Don Merckle & The Blacksmiths, performing at The Woodshed on Thursday, September 19, 2013 at 8:45pm.
The Blacksmiths join Don Merckle on guitar/vocals and include Jason Brachman (guitar), former LNJ band members Kevin Pettit (bass) and Chris Lawther (banjo), and Stan Gardner (drums). Expect to hear the roots-grass, alt-country rock, and raw energy of Merckle's former bands in this new and exciting lineup in addition to an increased level of maturity and complexity, all while reaching a level of honest simplicity that only seasoned musicians can accomplish.–KellyG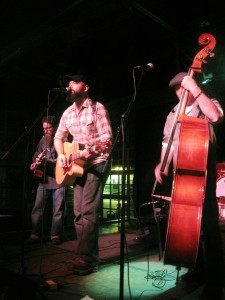 ---
License Information

Live at the Woodshed [dmbs2013-09-19] by Don Merckle & The Blacksmiths is licensed under a Creative Commons Attribution-NonCommercial-ShareAlike 4.0 International License.
Based on a work at http://woodshedarchive.org/event/dmbs2013-09-19/.