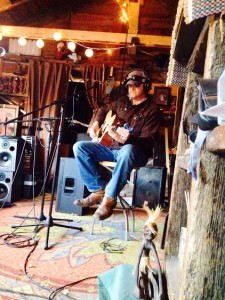 Bobby Sutton opened the new Happy Hour Archive Series this week with four acoustic version of songs from his new LP "My Big Tomorrow" and one currently unrecorded song.
The idea of the Happy Hour Series is for a singer songwriter to come in with just his guitar and drink of choice hang out and record 4 to 5 songs live when the mood strikes. No plans no goal and no booking.
The idea formed Saturday night when I started at happy hour with April around 5 at the Cock and Bull and it ended about 1:00 am at Utopia sitting in a both with Bobby.  At the time it seemed like a good idea, after doing it this seems like a great idea.
Checkout Bobby's new album at http://mybigtomorrow.com/