Digital Exhibit
Original Show Bill

---
We are excited to have Don Merckle and The Blacksmiths from Charleston, South Carolina in for the second "Woodshed from the Warehouse" experiment.   They are also the Krewe De BooShay Feature Band for the 2015 Animal Mission Columbia Mardi Gras celebration. Please tune in Thursday, 12/11/14, for our broadcast – we guarantee that you'll be glad you did!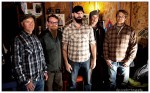 A darkly honest and wry singer/songwriter out of Charleston, South Carolina, Donald Merckle's tunes have one foot in the foot-stompin' Celtic punk of The Pogues and Dropkick Murphys and another firmly planted in the alt-country tradition popularized by Uncle Tupelo, Whiskeytown, and the Drive-by Truckers, capable of both rock and roll growl and smoky barroom introspection.
In the past, Don Merckle led the popular Appalachian/Irish-indebted outfit Loch Ness Johnny as well as co-fronted the rambunctious alt-country leaning American Gun, and between the two bands he's served as an opening act for Drivin' N Cryin', Lucero, Shooter Jennings, The Avett Brothers, and Cracker.   His latest backing band, The Blacksmiths, deftly mixes the disparate approaches of his previous acts into a sound and feel that deftly captures the ineffable blend of roots music and rock and roll at the heart of Merckle's songs, something fully on display on his latest effort, The Pugilist, released on June 10th this year by Jangly Records.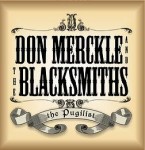 Don Merckle and The Blacksmiths were honored to receive recognition in the Charleston City Paper's "Best of Charleston 2014" poll with three category nominations:  Album of the Year (The Pugilist), Americana Artist of the Year, and Guitarist of the Year (Jason Brachman).  All well-earned nominations, in our opinion!
For More Information, see their new website or Facebook page:
Ballad of An Angry Man – YouTube
Murder on My Mind – YouTube