---
---
Archive Content
Band/Artist: Ken Mixon Solo
Date: September 19, 2013
Venue: The Woodshed
Location: Columbia, SC
Source: Soundboard (need mic list) and Front of house microphones (need type)
Lineage: Studio One (24/48) > flac (14/44.1 Level 6)
Recorded and Mixed by: Patrick Chapman
Transferred by: Jack Quillen
---
The Band
Ken Mixon (guitar and vocals)
---
Set List
1. Intro
2. Caving In (Englund/Mixon)
3. Looking Down (Englund/Mixon)
4. Wanderer (Englund/Mixon)
5. On the Water (Englund/Mixon)
6. Let Me In (Mixon)
7. I Can't Say (Mixon)
---
Show Bill
Not one to bask in the spotlight, Ken Mixon is more at home providing support to and augmenting music being made in a group setting rather than leading the charge as a bandleader or soloist. But, it is just this understated modesty that allows him to focus so intently on the music being made and to complement it so adeptly with any number of instruments at hand – percussion, piano, guitar, or harmonica to name a few. Still, having performed in various bands over the years (most recently Pocket Buddha), Ken may be best known locally as "that cojon drummer with the happy tambourine feet".
Stepping a bit outside of his comfort zone, to our admitted delight, Ken brings his guitar, smooth vocals, and songwriting chops to the Woodshed for a set of tunes he's written on his own as well as with former Pocket Buddha vocalist Julia Englund, about whom he lauds, "She has a gift with words, and I think the songs we wrote together were pretty special." Accompanying Ken for this 7:45pm Woodshed session is well-known guitar wizard Jason Switzer.–KellyG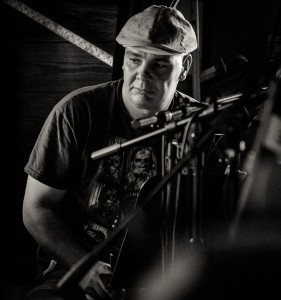 ---
License Information

Live at the Woodshed [kmixon2013-09-19] by Ken Mixon is licensed under a Creative Commons Attribution-NonCommercial-ShareAlike 4.0 International License.
Based on a work at http://woodshedarchive.org/event/kmixon2013-09-19/.