---
---
Archive Content
Band/Artist: Post-Timey String Band
Date: October 24, 2013
Venue: The Woodshed
Location: Columbia, SC
Source: Soundboard (need mic list) and Front of house microphones (need type)
Lineage: Studio One (24/48) > flac (14/44.1 Level 6)
Recorded and Mixed by: Patrick Chapman
Transferred by: Patrick Chapman
---
The Band
Kelley McLachlan (vocals, guitar, kazoo)
Sean Thomson (stringed instruments)
---
Setlist
01 – Sister Sideways
02 – Whiskey
03 – River
04 – Rag Time Song
05 – The Gamble
06 – Layman's Song
07 – Blood Bath
08 – Blues for Mr. Charlie
---
Show Bill
This week's session with Post-Timey String Band and Danielle Howle + Firework Show will take its listeners on a rollicking ride from ragtime to roots rock with a honky-tonk blues overtone that will start your foot tapping and end with an all out boogie. So put on your dancing shoes, get off of the couch, and crank it up – this is going to be fun!
Live Broadcast Session starts at 8:00pm with Post-Timey String Band followed by Danielle Howle + Firework Show at 8:45 'til 10:00pm. Tune in online at http://woodshedarchive.org/live
---
Danielle Howle + Firework Show melds world rhythms with honky-tonk swamp (John Picard on drums), swinging melodic bass (Casey Atwater), & percussive and lead guitar (Zach Bodtorf) – all sizzling together to create an authentic roots/Americana sound in full service of Howle's skilled songwriting. The band is planning to record their second album this Fall.
Danielle Howle is kicking off a great weekend in Columbia, beginning with an archive session at the woodshed Thursday night (tune in online). Then, catch her live Saturday Oct 26, 2013, 5:00 PM – 7:00 PM at Rocktoberfest in Downtown Lexington, SC and later that night at Rockafellas Reunion Show at Jake's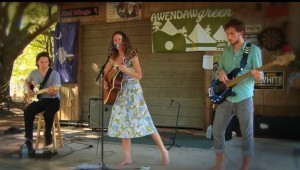 ---
Hello from Danielle Howle 🙂
Howdy Music friends. Welcome to The Woodshed. We are honored to be a part of this growing collection of artists. If you like the show, please support the making of our new CD by donating here! All proceeds will go to recording the CD in a nice studio, and finding a suitable vehicle for tour travel. This is our first on-line musical concert experience and we are proud that it is in my hometown of Columbia, SC and with the Woodshed Archive. Love! from Danielle Howle + Firework Show.
---
With a good mixture of quirky and serious, the Post-Timey String Band produces an interesting blend of folk, ragtime, and blues that hails influence from the old and the new. Kelley Mclachlan creates the picture with her vocals/kazoo/mouth trumpet and keeps everything in beat with her rhythm guitar (and sometimes banjo!) while Sean Thomson colors everything in with an assortment of stringed instruments.