Tom Coolidge and Leftovers [tcool2012-10-11]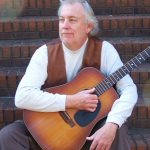 Woodshed at kepgroovin is happy to welcome Tom Coolidge to the Thursday October 11 session at 8:00 pm EST. Joining the Midlands singer and songwriter for the evening will be LEFTOVERS, a loose collaboration of top-shelf musical friends, who will provide acoustic talent and color to his songs.
Relax in your own comfort as Tom shares original songs from his 2011 CD, 'Bout Time. Have a bite with tasty home style tunes covered by LEFTOVERS. "We hope to have a grand time playing together in the Woodshed studio. Fun is part of our repertoire and I hope we can share it across the net," he says. This jam won't be loud.
For the past 6 years Tom has been learning and exploring the musical world of the Midlands. He has performed solo and played with bands at various venues and festivals throughout SC-though often below the radar.
In 2011 he produced and released 'Bout Time, a CD containing all original songs. Many will be played tonight.
LEFTOVERS for this October gathering are;
John Wetzel: clawhammer banjo, fiddle
Chris Lawther: banjo, guitar
Chris Paget: upright bass
Rob Turner: resonator guitars
Jackson Wools: percussives
Christie James: vocals
Kristen Harris: fiddle
We are happy to be contributing to Patrick Chapman and this mission. Take your shoes off, put your feet up and tune in!!
---
Session Web Media Player
---
Jerry's Photo Gallery
Direct Link to Jerry's Photo Gallery
Gallery: http://jerrya.smugmug.com/Woodshed/TCOOL2012-10-11/25883093_7cW9LT
---
Michele Patterson's In the Moment:
Check back after the event for one perspective of the archive session from someone that was present during the session. Please use the comments to add your experience. Given that this is an archive please listen to the archive live or recorded and make honest comments and impressions.
---