Pocket Buddha [pb2012-11-01]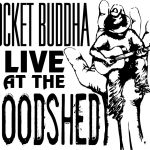 We have been writing a lot of new songs and expect our set to be composed of almost all originals, most of which will be Woodshed debuts.
Pocket Buddha is Julia Englund (vocals, uke), Ken Mixon (percussion, guitar, harmonica, vocals), Jonas Owen (bass, vocals), and Darren Woodlief (guitar, mandolin, vocals). We will once again be welcoming special guest Bobby Baker on guitar and vocals as well as (hopefully!) Zachariah Jones on the mandolin.
---
---
Jerry's Photo Gallery
Direct Link to Jerry's Photo Gallery
Session Gallery: http://jerrya.smugmug.com/Woodshed/PB2012-11-01/26315306_tjJQqf
---