Original Show Bill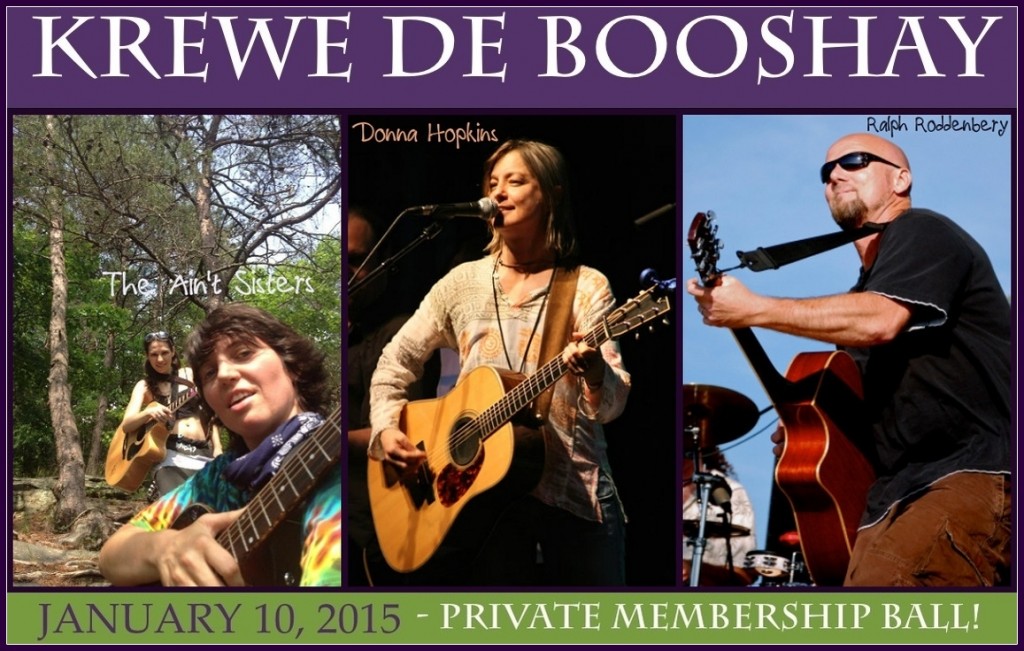 Welcome to Krewe De BooShay!
As Mardi Gras tradition decrees, Krewes are private social organizations formed to celebrate the Mardi Gras carnival season by creating and decorating a float, marching in a parade, and celebrating their social connection by hosting parties and balls throughout the year.
The Woodshed Archive is taking this year's Krewe De BooShay to new heights by hosting a private membership Ball on Saturday, January 10th at "The WareShed", aka The Warehouse, and you are invited!
The WareShed will be resplendent in Mardi Gras decorations and various arts & crafts vendors* are invited to display and sell their wares, all combining to reproduce a true carnival atmosphere.
Beginning at 6pm, Krewe members will gather for a social hour (BYOB) before the live music begins around 7pm, and oh what a musical treat we have in store for you!
From Atlanta, The Ain't Sisters will get the Ball rolling with their unique brand of funk-infused, blues-driven Americana which will pack a pleasing punch and kick things off with a bang. The evening will continue with two more incredible Atlanta-based talents, Donna Hopkins & Ralph Roddenbery, combining to perform as one "superband" accompanied by Ralph's bass player, Tommy Jones, and by Richie Jones on drums. Richie is the common denominator between Donna and Ralph, having played drums in both of their bands for many years.
Don't hesitate to pledge membership, if you haven't already, by filling out a pledge form here and making your payment at the Ball (cash or checks made payable to Woodshed Archive preferred), online, or through the PayPal link on the form. For more details about Krewe de BooShay membership levels, Mardi Gras, and updates about the Membership Ball, please check out our blog post, Consider Joining Our Krewe de BooShay.
MARDI GRAS, here we come – make way for Krewe De BooShay!

This talented duo, composed of Arrie Bozeman and Barb Carbon, blends tight harmonies and smart lyrics with soulful, booty-shakin' acoustic melodies. Both dynamic musicians and songwriters, they share an equal propensity for irony, humor, ferocity, and heart-on-sleeve authenticity.
With common roots in Atlanta, Arrie and Barb have been friends and cohorts for over 10 years, but The Ain't Sisters is their first venture as a duo. Together, their musical influences range from Patty Griffin to Prince and from Lucinda Williams to Bird Cloud. Their shared belief system is underpinned by the idea of music as community – that it should be fun and bring people together, and that's exactly what they intend to do!
Appalachian Wrecking Ball
https://www.facebook.com/TheAintSisters
Donna Hopkins & Ralph Roddenbery
with Tommy Jones (Bass) & Richie Jones (Drums)
Long before the "singer-songwriter" category arrived as an attempt to describe the indescribable, Donna Hopkins and Ralph Roddenbery had blazed a clear trail as "true-badours" of song. They are the "real deal", because neither of them know anything else but brutal honesty and vulnerability in a song-writing craft that is far beyond the contrived, because their songs are from life itself. – "Rev" Jeff Mosier
Hopkins is legit: She's Alabama-bred, farm-raised in hard times. Her mom performed with rock bands in mini-skirts and go-go boots. Her grandfather's music was a tremendous inspiration. Hopkins has matured into a genuine triple threat as songwriter, singer and guitarist.
As a songwriter…Hopkins seasons swampy, Gulf Coast funkiness with angular voicings of extended and suspended chords. Listen for examples on "In Spite of Yourself" or "Don't Ask Why." It's classic tension-and-release with a groove and lyrics that reveal mileage, honesty and soul. It's survival music you can dance to.
As a singer, Hopkins has a big, distinctive voice that effectively communicates varied emotions. The acoustic "Everything Money Can Buy" puts you on the front porch on a summer evening, right about dinnertime.
As a guitarist, Hopkins can be, at turns, raw and articulate. She's her own woman with equal parts John Lee Hooker and Billy Gibbons, and a dash of Jimmie Vaughan and Robin Trower circa Bridge of Sighs. – Georgia Music Magazine
Honestly, I don't know anyone who doesn't just LOVE Donna Hopkins, her spirit, her soul, and her music! She never ever fails to captivate her listeners with songs sung straight from her heart or with her presence, which has a way of putting your mind at ease while inspiring your body to shake, rattle, and roll at the same time. What a joy and privilege it is to have her and Ralph performing for our special celebration!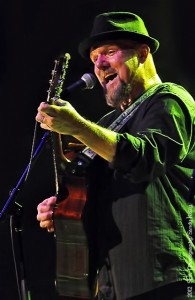 The Ralph Roddenbery Band is a dynamic blend of Americana, roots rock, and a twist of the blues. By combining four part harmonies with energizing riffs, captivating lyrics, remarkable stage presence and a driving rhythm section, RRB is able to connect with their audience in a way that makes them feel as if they are having a one on one conversation about life. In a review from the Charleston City Paper, Michael Andrews stated that Ralph Roddenbery has an "undeniable knack for tapping into the emotional undercurrent of his songs, many of which are just as likely to make you laugh as they are to cause moistening of the lids all within the same four minutes."
Some of my most memorable, joyful, and moving festival moments have been at Ralph Roddenbery Band sets, whether in the FloydFest beer garden on a hot summer day, the beautiful amphitheatre at Suwannee Springfest and MagnoliaFest, or the hoop-dancing filled Meadow at Shakori Hills. Every performance by "Ralphie" and his band is a testament to the power of song, from its creation to its rendering, and we are all the better for having experienced the honesty, love, and beauty of his words and music!
https://www.facebook.com/ralph.roddenbery.7
http://www.ralphroddenbery.com
*Vendors may set-up for no fee/percentage and are not required to be Krewe members. They will receive an invitation to purchase a Krewe membership and/or are welcome to make a donation to the Woodshed Archive, if desired; however, they are under no obligation nor expectation to do so. If any Krewe member knows of a vendor who may be interested, please have them contact patrick@woodshedarchive.org or kellyg@woodshedarchive.org.