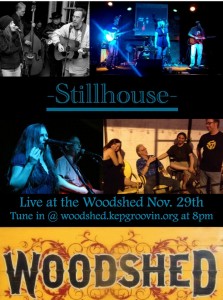 ---
Stillhouse live at the Woodshed!
We are excited to have Stillhouse back for a second session this fall.   Check out the great time we had in the spring sh2012-06-21
Bio: Stillhouse is Jenn McCallister, Mike Mahoney, Greg Bates, and Chris Jones. They formed in 2004 and have been playing and writing music around town ever since. Their originals land somewhere between The Band, The Who, and Neil Young. Their covers range from The Beatles, Stones, and Dead to Gillian Welch, Lucinda Williams, and The Allman Brothers. And they wash it all down with Gin and Vermouth.
---
---
Jerry's Photo Gallery
Direct Link to Jerry's Photo Gallery:
http://jerrya.smugmug.com/Woodshed/SH2012-11-29/26768098_kZ8Bdj
---
Set List
How Long Has it Been?
Day without a Daydream
I Don't Wanna go to Nashville
Treat You Right
Harlem River Blues
Den of Thieves
Tear My Stillhouse Down
She Said She Said
Plastic Jesus>Summer Come and Gone
Calm Before the Storm
Cooler Heads
Shadows Fall
For the Turnstiles
Take Your Coat
Dotted Lines
Bar Fly
Wait for Green
Can't Find My Way Home
Can't Let Go